COMMON SYMPTOMS:
Back pain, neck pain, headaches, stomach pain, GI problems, heart burn, chronic constipation, anxiety
LEADING TO:
Decreased energy levels, frustration, anxiety, moodiness, poor sleep

If you're experiencing any of the above, I can help.
Utilizing knowledge gained from the Upledger Institute in Craniosacral Therapy and the Barral Institute with Visceral Mobilization, I look at the whole body, including the cranial bones and organs – to determine if the dysfunction lies within one of those systems. Treating these systems can help alleviate many unanswered issues within the body whether it is low back pain, chronic headaches or digestive distress. The organs of the body are held in space by their support system of fascia and ligaments. These support structures connect into the hard frame (bones) of the body and if there is a dysfunction to either the organ or supportive structures you can see torsion, tension, and/or alignment issues from within.  There is also a big component of emotional holding patterns into our organ system and having visceral mobilization performed can help decrease these long standing patterns.
If you're experiencing such pain and symptoms and want to find the cause of it, take the first step and schedule an appointment or find a visceral therapist:
Get In Touch
Melia is wonderful. My doctor suggested visceral manipulation for rib cage pain and she was one of the few physical therapists I could find offering this type of therapy. My pain decreased considerably.  She is incredibly knowledgeable, skilled and gentle.  I sent my husband and father to her for back pain and she was able to help them when no one else could. I even took my son to her when he was injured running cross country. In the past, I have visited many other physical therapists, but Melia provides a level of care that is hard to find.  I consider her our family's physical therapist and would never go to anyone else.
Lisa S.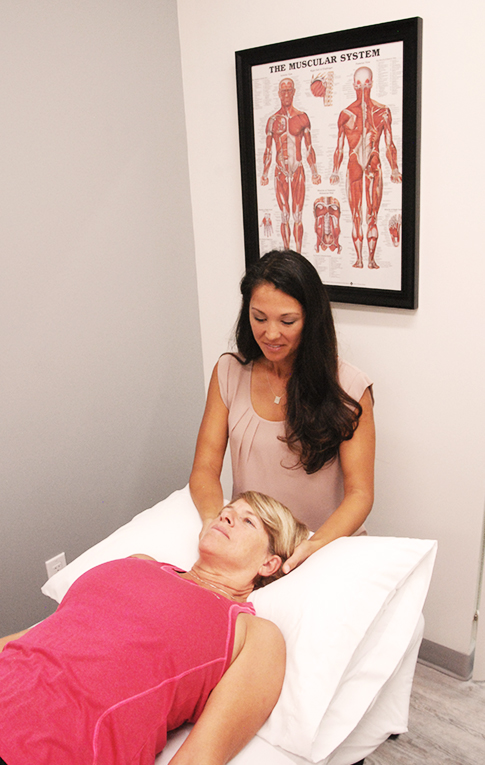 Get Started.
See a decrease in headaches, increased productivity during the day, and better sleep at night. Take the first step:
1. GET IN TOUCH.
Call or email me to discuss scheduling options.

2. COME IN.
Come in for a thorough evaluation.
New Patients: Please download, print, and complete this form (PDF) for your first appointment.

3. CONTINUE WITH TREATMENTS FOR NECESSARY CORRECTIONS.
Get In Touch